I look out the passenger seat window of my step dad's sun-bleached black Chrysler LeBaron sedan. Sweat begins gluing my black t-shirt to my back. In the back seat, my younger brother has his Game Boy. He has the volume turned down and I can't hear whether he's caught another Pokemon. My step dad didn't want to keep the car running while he talked to the trailer park's property manager about something that would only take a minute or two but couldn't wait until after the movie. We had to catch the 4:30 showing of Anaconda if he was going to pay the Super Saver price. After they finish talking, the property manager begins to drive away in her dirty white golf cart. It only makes it a few feet before she stops.
The kitten thrashes all over a patch of yard in front of one of the trailers. Flecks of blood gurgle out of its mouth, but not enough to muffle its screams. The property manager leans forward, her forearms on the steering wheel. Her jaw hangs. I couldn't tell which wheel from her golf cart had rolled over the kitten. The property manager can't find words to apologize. My step dad doesn't wait for her to say something to walk to the back of the car. The trunk yawns. My step dad strides past my window, shovel in hand. He creeps up on the thrashing kitten so it doesn't sense him coming. I close my eyes before the shovel thunks against the kitten twice. I look straight ahead. I catch in the corner of my eye how my step dad uses the head of the shovel to cradle the carcass. I glance at the rearview mirror to see how my younger brother is doing. He's still buried in his Game Boy.
My step dad keeps the car just above the speed limit enough to not get pulled over. It's the kind of driving he does when he's in a hurry. I don't say anything about what happened. He's not the one I bring questions or concerns to anyway, like how to shave or put on a condom. He never asks my younger brother, his son, about what he heard or saw. It doesn't really matter to my step dad. He's just here to keep the fun going for the weekends we're around.
J. Bradley
J. Bradley is the author of the novel The Adventures of Jesus Christ, Boy Detective (Pelekinesis, 2016) and the Yelp review prose poem collection Pick How You Will Revise a Memory (Robocup Press, 2016). He lives at jbradleywrites.com.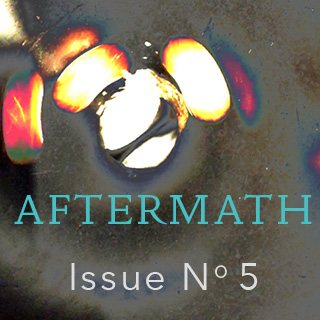 READ THE REST OF ISSUE NO. 5.
CONTENTS
Editor's Note
Aftermath Stories
Leave Your Drawings in this House
Fandanguillo
The Enormity