We got used to the lingering ash more quickly than we thought we would. After a few months we didn't remember what people looked like without their breathing masks. The window to the soul is the eyes, after all, and whenever we wiped our goggles clean they were still clearly visible. The only face to which we remained accustomed was the Leader's. He didn't have to wear a mask, or goggles, or layers of reflective silver fabric. They kept the heat on, and the air clean, in the Tower. They said they had to because as long as the High Office remained as we remembered, our greatness would remain uncontested.
In each of the monthly podcast addresses, the Leader reminded us that even though things seemed bleak, he was going to fix it all.
"I have the solutions. They are undeniable. They are good," he intoned. "In time you will see that what I say is true. Patience is a virtue."
So, we were patient.
Anything else we knew came from the Updates. Once each week they streamed to whatever screens we had left, powered by whatever we could scrounge and scavenge. We heard their words, read their accounts.
Another ten thousand dead, frozen.
Another school finally uncovered. Choked children, their lungs caked with dust and soot, still sitting in their desks, reading the Leader's History. On the book's cover, lit by a sun we could only recall in recordings, the Leader stands tall. He glares down on the Dissenters, his finger extended toward them, calling the Lifers to battle.
Any electricity we had left after the Updates went to the clocks. The dingy orange darkness that permeated day and night made it difficult to know when going out was safe. We lived by alarms, waited for what used to be midday, and then we'd all connect to the tether and venture out looking for water, food, and survivors.
We didn't like survivors much. They raised questions among us. Could the building hold more people? What would they eat? Usually we just had to kill them. We didn't enjoy it. Their cries haunted us. We did it out of duty; our duty to survive.
When the alarm beeped from my watch, we'd each tug twice on the tether, our signal that it was time to turn back. With whatever we could carry, we trudged back through the ash to the building, where we'd disconnect from each other and return to our apartments.
We swept the ash away with our feet, forging a fresh path on the wood floor, toward our bedroom. All was shadowy charcoal gray. We huddled together on a dusty mattress. The ash got everywhere. When we wanted to sleep we put on the Leader's podcast address.
"Everything will be great. Don't worry. I have solutions. They are coming. Big ideas take time," he intoned. "Everything will be great."
We held each other, and prayed: "Please let us die in our sleep."
Nate Ragolia
Nate Ragolia studied Creative Writing at the University of Colorado, Boulder. He is the author of There You Feel Free, a novella from 1888's Black Hill Press, and editor of BONED (bonedstories.wordpress.com). He's also the creator of the webcomics The Illiterate Badger, and The Right Corking Adventures of Cecil Larkbunting & Alastair Wakerobin. He works as a writer and editor in Denver, Colorado. When he's not writing, he's probably playing pub trivia, losing at video games, or petting dogs.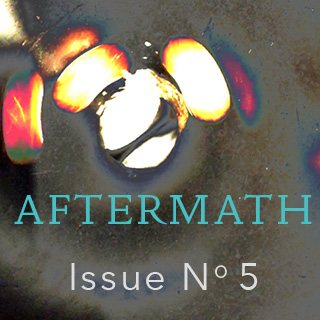 READ THE REST OF ISSUE NO. 5.
CONTENTS
Editor's Note
Aftermath Stories
Leave Your Drawings in this House
Fandanguillo
The Enormity