Your asshole parents have purchased a security system with streaming video and audio that they can tap into from anywhere. Everything's encrypted so mightily that only MIT and Stanford grads can hack into it. Now when you and your friends need your much-deserved breaks from school or other hassles, you can't use your place.
Think about that. Your own home. The place you've lived in since forever. As a percentage of life lived, you've had more time there than they have. But because they're selfish turds they don't care. If your dictatorial parents were truly concerned about security, the cameras would all be on the exterior. But instead they use their putative worries about burglary to hide their true, insidious goals: spying on you, and stealing your freedom. Isn't it bad enough that they're fuckwads? Do they have to be lying fuckwads, too?
But Stoneslide Giftworks has the solution: SnoopBuster. For a mere $99.95, we create 12 hour looping videos for up to four camera feeds. All you have to do is send us the monitoring company's phone number and URL and the number your conniving parents used as a contact when they set up the account. Our mathematicians hack the system, and then our engineers take over and collect nondescript footage for each feed and thread everything together into seamless video and audio blandness. You and your friends will be able to engage in your rightful activities, such as blazing up, raiding the liquor cabinet, and, if people you have amorous feelings for are there, hooking up. All while your dishonest parents check in from work and find nothing amiss.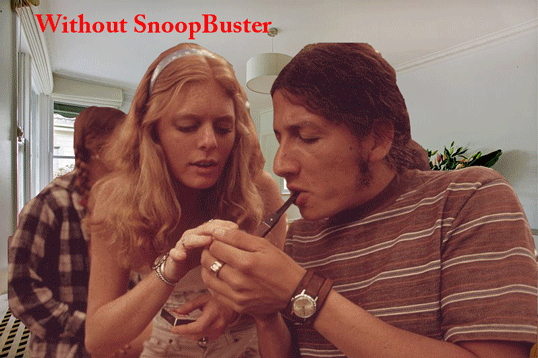 When you and your friends need to relax, you just dial our toll-free number five minutes before you get home, and our technical staff will have the safe feed streaming.
For a small additional monthly fee of $24.99, we will insert footage of you participating in laudable activities, such as practicing piano or reading the Collected Works of Cicero. You may not want to give your old-fuck parents the satisfaction, but think of how much more likely they are to raise your allowance.
If there are pets that have free run of the house during the day, there's a low monthly maintenance fee of $19.99 per pet to insert fresh animal movements into the feeds.
If your scheming rat fuck parents have more than four camera feeds, each additional feed will cost only $14.99.
The annual renewal fee is $49.99.
Face it: your parents are duplicitous douches who lost any right they might have had to filial respect and obedience when they disrespected you and disobeyed the laws of decency. Don't let their hideousness as human beings ruin your life. Give yourself the gift of the SnoopBuster.
More holiday helpfulness from The Stoneslide Corrective:
Stoneslide Gift Assist #1: For the Couple that Can't Agree on the Holidays
Stoneslide Gift Assist #2: Silent Night and Day
Stoneslide Gift Assist #3: Rudolph the Red-Cheeked Sobriety Buddy
Stoneslide Gift Assist #4: Hitcoin!