by Jude Polotan
---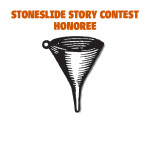 [Note: This story received first prize in the inaugural Stoneslide Story Contest and can be read in full in The Stoneslide Corrective No. 1. The 2015 contest is now open to submissions.]
---
The first night my husband barks in his sleep I lie hopelessly awake, fixated on the pitter-patter of clichéd April showers against our grimy sixth-floor windows. Our rubber boots dry by the front door, our umbrellas drip in the corner behind it, adding to the warp of the wood floor. There was a moment tonight, after we had pushed through the apartment door together, dropped our bags and shed our dripping coats, after Matt took my hair in his hands and wrung it out, creating a small puddle on the floor—an infinitesimal moment when the playful smirk in his eyes sobered. Right there in the entryway he was going to broach the subject at last, and my blood drained from my arms and legs and heart and collected in my throat. It's been two months, he would say, it's time to consider our options, and when I'd open my mouth to respond, the blood would come gushing out. But then Matt bent down to peel off his socks, suggested we order in pad thai and stream a movie.
Every day we don't talk about it is both reprieve and torture, and I'm wondering which is worse—to confront or not to confront—when I'm startled by a loud bark beside me. All the more startling since it came from Matt. Our bedroom is less than dark, a slice of streetlight seeping in from beneath the slatted window blind. I push up onto my side to peer into my husband's face. A slight tremor in his eyelids, his lips twitching, feet, too. The strangled sound in his throat like whimpering. He's in danger or in pain—bereft.
"Matt," I whisper.
When I squeeze his shoulder, he growls and turns his back to me. Or on me.
####
By morning the benign pitter-patter has grown into a wailing tantrum of a storm and I feel a twinge of nostalgia for those days when I got up early enough to squeeze oranges and scramble eggs or toast bagels so Matt and I could breakfast together before heading our separate ways for the day. I used to have a certain enthusiasm for such things. But there's no time for that now, even if we did have oranges and eggs in the refrigerator.
I'm in the bedroom stuffing pages into my messenger bag when Matt pokes his head in. "I'm leaving in five. Want to walk together?" he says. He waggles his over-sized umbrella as enticement.
Waiting for the elevator, the smell of bacon and pancakes and warming maple syrup permeates the corridor—other people's breakfasts, family breakfasts. I study Matt's face, checking for whiskers or teeth that have sharpened to fangs—a little joke with myself—but everything's as it should be. Still the long, noble nose between cheeks just the right amount of hollow, still the left eye a sharper blue than the right.
"What?" he says, squinting at me squinting at him. We board the elevator and his eyes focus on the floor numbers illuminating as we descend.
I ask how he slept.
"Better than you."
His raincoat is unbuttoned. He's wearing the black cashmere sweater I bought him eight years ago, the Christmas before we married. We'd spent the holiday at a ski lodge and for me the sweater will always smell like the fireplace where we nestled together to lay out our shared future—our careers, where we'd live, how we'd divvy up our vacation time and the places we'd go. I've never been one to project too far into the future, but Matt isn't a gallery curator by accident. It's his nature to order, to arrange, and he takes the same approach to life as he does to an art exhibition. Don't forget our children! he'd said, squeezing my hand. He wanted two girls and a boy, and we could start right then as far as he was concerned. I had no opinion on the matter. I hadn't given it much thought.
At the third floor, Matt says, "I'm concerned, Tess. This insomnia of yours—"
I brush my hand over his cashmere chest. "You'd think you don't own another sweater."
He dips his head to look into my eyes and brushes a stray lock of hair from my face. The way he gazes at me—concerned? apologetic? disappointed?—I have to quash a sob. It's probably the lack of sleep, but not only.
"Did you have any dreams?" I manage, but emotion jams up my words. Before I can repeat myself, the elevator jerks to a stop at the second floor and an old woman gets on with a French Bulldog in a yellow rain slicker. Matt reaches down to pet the dog and I don't need to see his face to know he's grinning.
"All this rain," the woman says, "better start building that ark." Is Matt thinking what I'm thinking? Two by two, one male and one female to ensure survival of the species?
The lobby floor is strewn with the rubber runners and mats that have been there all week. Each time the glass door revolves it stirs up the smell of new leaves and wet wool and the electricity of the overheated fans working to dry the marble floor. The gallery is in the opposite direction of the subway, but Matt walks with me. He thrusts open his umbrella and holds it above our heads as we slosh through filthy puddles and navigate the slick steps into the station. At the turnstiles, he suggests we meet at lunchtime. "We need to get a birthday present for Tyler. The party's tomorrow."
"Can't. I have a meeting." Instant as a reflex, the lie, and the sense of a new line crossed.
Matt and Tyler's father, Bryan, have been friends since high school and they've always competed with one another. Matt and I beat Bryan and Jennifer to the altar, setting up the race to the presumed next milestone. Jennifer and I endured countless meals of our husbands boasting about whose toddler would walk and talk first, display an aptitude for languages or a genius for putting things together. Tyler will be three tomorrow, his sister will be two next month and Jennifer is pregnant yet again. Bryan no longer teases Matt and on the rare occasions when I see Jennifer now, she talks too fast and her neck breaks out in red blotches.
Matt offers to work around my schedule. Ever accommodating. I tell him he may as well go on his own, what do I know about what a three-year-old wants? "Anyway," I say, "isn't the party in the park? With this weather, I don't see that happening."
"I've sent a memo to Mother Nature," Matt says. "No rain Saturday." Such baseless optimism endeared him to me once upon a time.
He leans in for a quick goodbye—not a kiss, rather a brush of lips across my cheek. I pass through the turnstile and stake out a spot on the platform before I grab a manuscript from my bag. I have just begun to read the query letter when I sense someone staring at me. I turn to discover Matt watching me through the metal bars of the emergency exit gate. For a flash of a moment he looks like a man who has just received bad news, but then he gives a little wave and a big smile and I can't help but notice the glint of his canines.
####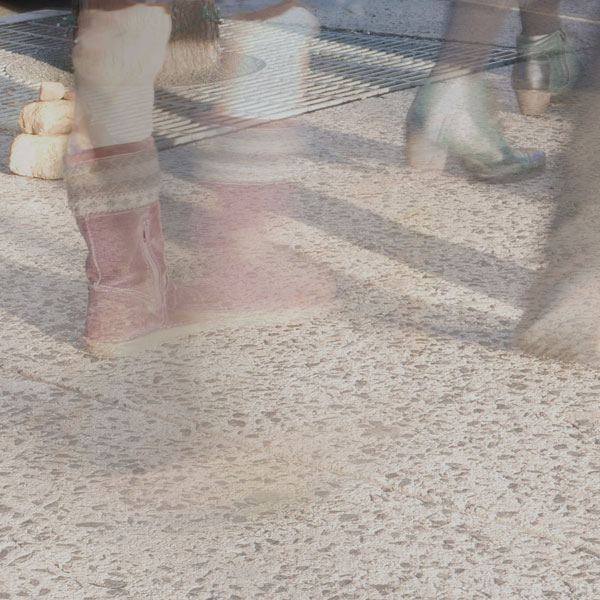 There is nothing I anticipate more than the morning I'll read a manuscript that engrosses me to the point that I miss my subway stop. Unfortunately the manuscripts that come across my desk are from writers who've already been rejected by the top-tier agencies, and maybe even the second tier. The no-name firm I work for is an agency of last resort. Six years in and there have been some good books, even great ones, but not The One. This morning I get up a full minute before my stop to wait by the door.
At the office, one of the interns follows me a little too closely to my cubicle. She's twenty but appears closer to thirty, a bit wild-looking with her choppy hair and pierced tongue, but really she's a sweet girl from Wisconsin. Courtney's lugging a skyscraper of slush pile manuscripts and I point to the floor because there's no more room on the desk. I clear the books from the chair wedged between my desk and the wall and Courtney plops into it.
As I pull off my rain boots and slip into heels, I say, "If a husband barks in his sleep and there's no wife to hear it, does it mean anything?"
"In a book, you mean? Or in real life?" Courtney asks.
"Let's say real life."
"Then not necessarily, though I have noticed you have a tendency to assign meaning to everything."
Am I glaring at her? Because she shrugs. "Psychology minor."
"So you think it's normal for a person to bark in his sleep?"
She points out that normal is a highly subjective term. "But for the sake of argument, let's say the husband's behavior is abnormal."
"Not behavior, only a dream."
"Whatever. It still doesn't have to mean anything."
"In literature it does," I say.
"Which leads us to—" She reaches for a manuscript from the top of her pile.
"Is that onionskin?" I say, shocked the stuff still exists.
"Is that what you call it?" she says. She hugs the fat, crackling stack of pages against her breast. "Three hundred seventy-seven pages," she says, "single-spaced. And…" Courtney's gaze drifts far away.
"And?"
"You've got to read it. And, like, today."
My pulse quivers, but I'm getting ahead of myself. I still my shaky hands against my desk. I ask to see the query letter, but there isn't one. So much for submission guidelines. No one other than Courtney would have read even the first sentence of this novel.
I ask her to make the case. "Why? What's the urgency?"
She searches the ceiling and shakes her head. "I'm not a weeper," she says, "but this book… Let's just say I was sobbing all night."
Damn. I adore the sad ones, but they're so hard to sell.
"I cried because it was tragic, but I cried even harder in the happy parts. Like, sometimes there was more joy than a person can bear, if that makes sense?"
Courtney hands me the first page. I dare you to read just the opening paragraph."
I glance at the page, read the first sentence and I'm already irritated because it's been typed on a typewriter with a broken key, so that every lowercase "e" is missing its bottom arc. I reread the sentence, not having absorbed it the first time, but it's no use. My thoughts have circled back to Matt and his nocturnal barking.
Courtney snatches the page from my hand. She stands and lays the entire manuscript carefully on top of the others in my Vesuvius of an inbox and taps it hard with her index finger—this, this! Before she goes, she says, "Was it your husband who barked?"
"The most obvious explanation is that he was dreaming he was a dog. Or maybe he was a dog in a past life, if you believe in that. Or maybe—"
"Except you think it's something else," she says.
This is an excerpt. Read the rest of "Dog People" in The Stoneslide Corrective No. 1.
Read Jude Polotan's bio and the bios of the other winners and honorees of the 2014 installment of the Stoneslide Story Contest.