This week, we have seven rejections from author Libby Cudmore. She may appear sweet, but inside she has the pitiless, razor-wire heart of a true editor. And she has contributed a new twist to The Rejection Generator: each heart-rending rejection note comes with a suggested soundtrack, to maximize your suffering.
Subject yourself to her ministrations. Remember, the more it hurts, the more it fortifies you against future rejections. Because, let's face it, you're going to be getting a lot of rejection in your life. You need this. Everyone needs it, but you more than most. Really, think about it.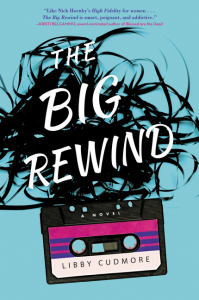 If you enjoy being rejected by Libby, you will want to check out her new novel, The Big Rewind. It's a murder mystery / exploration of hipster culture / character study and has been hailed as "smart, poignant, and addicting," among other laudatory adjectives. Libby worked at temp agencies and record stores before settling down in Upstate New York to write full time. Her short stories have been published in Pank, The Big Click, The Stoneslide Corrective (ahem), and Big Lucks. She holds an MFA in creative writing and makes all her own notebooks.
Read her Stoneslide stories:
The Redemption of Oren Barry
How to Murder Your Friends