Dear Writers and Friends,
You already know that the Stoneslide Story Contest is currently open to submissions. You also know that first prize in the contest is $3,000 and undying glory. But there are some poor souls out there who don't know any of this.
We worry about those people living in the damp caves of ignorance. Will you help us help them?
We will send a free copy of The Stoneslide Corrective No. 1, our new print issue, to the first 20 people who share this notice with at least five friends. Just email this page to other writers you know, then drop us a line letting us know you've done so at editors@stoneslidecorrective.com. Then we'll put a gleaming copy of the magazine in the mail to you.
Regards,
The Editors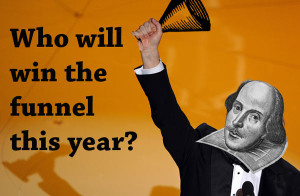 Stoneslide Story Contest, The Basics
Open to any story up to 10,000 words in length
First prize: $3,000
Second prize: $500
and so on
Entry fee: $10
Deadline: June 21, 2015
Here's a look at some of the work that was honored in 2014:
And here is the announcement of the 2014 winners and all the honorees.