In our strongest feelings can we find our truest selves. Often such emotions have been likened to flames, and as I gaze at their action in my own breast, I see the white flame that burns away impurities.
The irony, or shall I say the kink, that sends so many of our lives onto wayward paths is that this revelatory class of feeling cannot be found in the self alone but must be ignited by the spark of another. So we must seek ourselves outside ourselves. Many find this spark in their fellow humans. My company, Gorgons Bluff, the world's finest purveyor of naturalists' supplies, has long sought to support those who find their passion in the great open spaces of our planet and in the encounter with untamed nature. I speak from humble experience when I say nature is the greatest instructress.
For, if you look carefully and with proper understanding, you will find a passion play at work in what the unknowing would call the humblest creatures. Have you seen the dung beetle? That funny scrabbler who, like Sisyphus, rolls his giant load without evident end? Let us look more carefully. Take that appropriately named member of the family Scarabaeidae, the Dynastes hercules: here is a creature who labors all his life for a deeper purpose that he knows intimately and that we overlook only through our own ignorance and failure of sympathy. The male scarab will dig a burrow in the substance of his sustenance, shaping the world he is given into the tool he needs to live a complete life, like re-creating Eden in the circumference of a ball of dung. He then assumes the place of the guardian angel at the entrance to this remade paradise. He stands there to accomplish two tasks, which are truly one driving need for him. He will fight off any challenger and he will seek to draw to him a mate, a perfect match to his own self.
The splendid horn of the D. hercules (and other species, such as C. macleayi and D. granti), which projects to such gaudy and preposterous lengths ahead of him (see page 5), is the mechanism by which he wages his twofold struggle to repel his rival and gain his mate. Think for a moment what that horn means. An evolutionary biologist will call it an example of sexual display, showing that the creature must invest metabolic energy in growing his horn, thus decreasing his individual chance at survival, in order to improve his chances of reproducing and spreading in the diminishing portions of immortality into succeeding generations. But you do not need the vocabulary of the lab-coated scientist to understand this point. Just look at the extravagant distortion of the beetle's form away from utilitarian function. Think of the weight of that giant projection pushing his head down all the time. Think what it means just to try to turn around in a confined space with that. The horn is an absurdity, a beautiful absurdity that serves a purpose beyond sense, beyond understanding, and beyond words, certainly.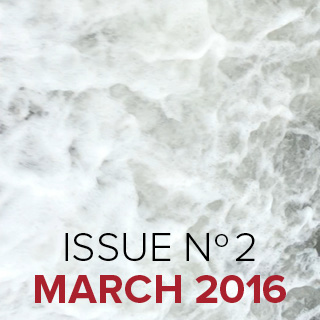 CONTENTS
Sponsor's Note: Passion
The Bridge
The Saguaro Apocalypse
The Final Blow
True Things I Shouldn't Have Said Anyway
Application for Funding
If you are like me, this description will put you in mind of the role of art in human society. A scientist of some greater species, looking down at our petri dish galaxy, would have to rub his chin and ask why such a superfluous growth occurs in human society. How does it help them survive?
You and I know, without being able to explain it, that art is actually essential to our survival.
All of this helps me explain why Gorgons Bluff has commissioned and financed a new feature film telling the story of the noble Scarabaeidae. We engaged one of the finest directors of our generation to create a masterwork of romance, battle, and the triumph of a life fully lived. The story of the making of this film may one day be a ripe subject for its own dramatic treatment. We had passionate people with divergent visions, we had battles over questions of scientific accuracy versus dramatic license, we had shouted disputes over the quality of the catering. In the end, our director (I cannot name him here due to ongoing lawsuits) pulled out of the project, and we completed it with internal resources at Gorgons Bluff. But I believe the final product has only drawn strength from all of the strife in its making and can use the heat of the cauldron of human suffering to imprint a sublime mark on your soul.
You may ask—as did many "professional" filmmakers we approached about this project—why make a film about a bug? We fear this question reflects a deep misunderstanding about the role of art. Have you not noticed that passion can best be known in others? At a minimum, as I mentioned in the opening of this essay, the truest feelings cannot burn in the vacuum of the self alone. I believe that art lifts us above the boundaries of the self. Think of how easily a moving story can cause you to weep and to long for a fulfillment you can only sense while the story continues, and yet how sturdy are the barriers of rectitude in your own travails. Art carries you outside yourself, and how much greater is the art that carries you beyond borders of species?
Some may experience squeamishness at the intensity of this story and wish to float free from such struggles. There is no question the film is a raw depiction of the unavoidable fight for survival—meaning life lived with passion. Love and battle have been the subjects of great epics for all of our history for a reason. Love and battle may repeat themselves endlessly without progress toward any endpoint, and yet they are never futile; they are the substance of meaning itself. Our model here is the gladiator who, when offered the wooden sword, the rudiarius—a symbol of freedom, entitling him to walk out the Gate of Life a normal citizen—refuses it and returns to the training pit and future duels. That gladiator knew that life was actually in the arena. His spectators were so rapt because they craved the purity of life they saw in the arena.
I have asked the editors of this issue of The Stoneslide Corrective to expand on these themes. They refused my initial request to commission only stories about members of the insect kingdom (and have thereby lost an opportunity to create a unique masterpiece, in my opinion). I reviewed the contract my father signed with them when he still ran Gorgons Bluff and found I could not compel them to this higher purpose. Nonetheless, I believe they have understood my intentions well enough, and you will find illumination in these pages. This magazine is not the wooden sword and the false Gate of Life; it is the clash and the danger and the hot sun on the sand. And, please, remember to go see The Passion of Scarabaeidae when it opens in March 2016.
Clark Van Steedt
Clark is the CEO of Gorgons Bluff Ltd., the worlds finest purveyor of naturalists' necessaries™. An avid mountaineer and semi-pro entomologist, he holds the record for highest altitude identification of a species of Diptera.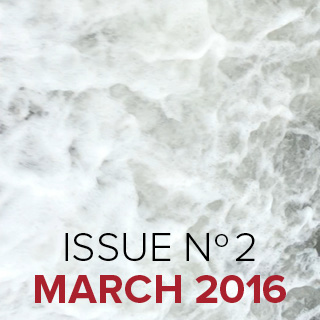 READ THE REST OF ISSUE NO. 2.
CONTENTS
Sponsor's Note: Passion
The Bridge
The Saguaro Apocalypse
The Final Blow
True Things I Shouldn't Have Said Anyway
Application for Funding