Let's begin this story with a boy and girl in bed together. I think that's a nice beginning. And let's say the boy has just woken up. That would be unusual because you always think boy-girl-bed means moans and groans, squeaky springs, thrusting hips, and sweaty skin. We won't have any of that; we'll have calmness and quietude. Maybe a bird outside the window going tweet tweet tweet. Maybe not. Forget about the bird.
So the boy wakes sluggishly, opens his eyes, and looks at the girl. She's awake and looks at him and smiles, and he says, "Who are you?"
Oh dear, not a very good start to the morning. Why would he say that?
Maybe he's got a hangover and she's just a blur lying there beside him. Even so, it's very rude, don't you think.
Obviously she's not pleased at being asked such a question, especially as she's sore from all the fucking last night, or maybe this morning. She gets out of bed, upset—not tearful upset, but upset nevertheless. She gets out of bed and puts on her clothes. Why didn't she get out of bed before? Maybe she only woke up a few moments before the boy, and like him has a hangover.
"How about some coffee?" he asks.
She walks through to the kitchen. She doesn't seem to know the flat and finds the kitchen more by accident than design. She opens a cupboard door and looks inside and closes the door. Oh no, now I'm going to have to describe her looking for the coffee and finding the coffee and opening the packet and tipping beans into the grinder and blah blah blah. I can't be bothered with all that. Let's go back a couple of days.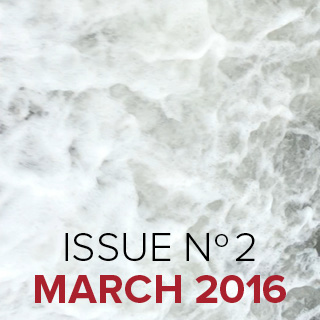 CONTENTS
Sponsor's Note: Passion
The Bridge
The Saguaro Apocalypse
The Final Blow
True Things I Shouldn't Have Said Anyway
Application for Funding
She is in the living room of her house. A house which is the opposite of the flat she just woke up in. The flat is modern, well furnished, and expensive. The house is more of a slum. It is untidy and the furniture has obviously seen better days. Her mother is sitting on the sofa. The girl is standing near the door, all dressed up to paint the town red. Her makeup is shiny. Her mother is crying, "I'm leaving him. I can't stand any more."
"Can't stand what?" says the girl, rather meanly.
"Oh, I knew you'd take his side of things. Everything's always my fault, isn't it?"
"No, but you're always moaning about things, but you never do anything about it."
"Well, I am this time."
The girl leaves the house and slams the door. She meets her friends and they hang around a café and smoke spliffs and drink wine and laugh. When she comes home, she finds her mum on the floor with a bleeding nose. Her drunken father is in the kitchen cooking—burning—something on the cooker. He sees her and shouts, "What're you fuckin' lookin' at?"
She runs upstairs.
So, does the mother leave the violence that has existed in her life for 15 years?
No, but her daughter does. And where do all teenage runaways end up? On the street. And that's where she was last night. Asking people for spare change, frightened. We've all seen them, haven't we? You walk toward them and you think, Poor little girl, I should give her some money, but then you think maybe she isn't homeless, maybe she's got a nice flat and she's begging for a living. So you walk straight past and afterwards feel guilty so you walk back to give her some money, but when you see her she is getting in a car with a man and you think maybe that's her boyfriend (even though he looks old enough to be her dad) and you wish you'd never come back.
Well, that's what happened to the boy.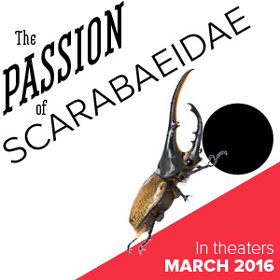 This issue sponsored by the new film from Gorgons Bluff Productions.
Watch the preview now.
In the kitchen she makes coffee.
He saw her in the street but didn't give her any money and walked straight past, and then turned back, enthused with altruistic plans (more to do with her attractiveness than his kindness) and saw her getting in a car. Well, most people would have just left it at that, but the boy didn't. He shouted, "Hey! Stop! Don't get in the car."
So the girl slammed the car door shut and the car drove off, and the boy said, "What are you doing?"
And the girl said, "He said he'd treat me to a burger."
"And you trusted him?"
She shrugged.
"How about a pizza?"
"Mmmm, yeah. Now you're talking."
So they went for a pizza. She liked him the moment she saw him.
She pours the coffee and goes through to the bedroom.
"Your coffee is ready."
"Can you bring it through?"
"No."
She wants to show him her nice side, but without being too servile.
She goes back to the kitchen. Not only has she made coffee but she has put cereal bowls and cornflakes, milk and sugar on the table. How organized. She sips her coffee, mmm, smells nice, too—organic arabica. She sits and sips her coffee, and munches the cornflakes she poured for herself but not for him. She thinks about her mum. How will she be feeling?
He comes through, scratching his head like Stan Laurel, and with a similar sheepish grin says, "Coffee smells nice. Cornflakes?"
She pushes a bowl his way, she pushes the packet of cornflakes his way, and then the milk. She points at the coffee pot.
She wants to show him her nice side, but without being too servile.
"How are you feeling?" he asks.
"Okay. What's your name, by the way?"
He smiles. "David, and yours?"
"Belinda. I told you last night."
"Sorry. Can you remember last night?"
She giggles shyly. "Not very much."
That was the first time they slept together. If they'd been able to remember it they would have had memories far more enjoyable than the headaches they presently endured.
In Pizza Express after her happenstance with the old man in the car they were enjoying their pizza when she asked, "Why did you stop me from getting into that car?"
"He looked like a dirty old man."
"Oh."
She never mentioned it again. David was her knight in shining armor. She felt he had saved her. After the pizza she went home with him, which is where we are now.
Three days after their first fuck, the flat is looking much tidier, more habitable. Belinda is happy; she thinks this is the beginning of a fairy tale romance. She shows her happiness in her housework.
One morning, barely dressed, she is eating toast and marmalade and looking at the pictures in City Girl when the front door opens and closes, and someone walks along the hall—a woman in clacky heels. Belinda looks up and a middle-aged woman comes into the kitchen. It is David's mother.
"Who are you?" asks the mother.
"Who are you?" repeats her son's bed-mate.
So they didn't get off to a good start. Maybe that's the way things are sometimes. David's mother notices the flat is tidier; even so, it's not enough to endear Belinda to her. She has always been a believer in first appearances and Belinda is obviously a common girl, certainly not suitable for a boy like David.
"Where's David?"
"Still in bed."
The mother leaves the kitchen and goes through to her son's bedroom. After a faint single tap with her knuckle on the door, she walks in.
"Who's that girl?" she asks.
"What? I met her at uni," David replies.
The mother closes the door and the rest of their conversation is stolen from Belinda's curious ears.
Later, when they're showering together, Belinda asks, "Why did you tell your mum you met me at uni?"
"It sounds better than I met you in the street."
What Belinda didn't hear was David's mother saying, "You can't be serious, David. What can you see in a girl like that?"
"What's wrong with her?"
"Do you really need to ask that? Thank God your father can't see this. Get rid of that girl. If you don't I will stop payments for the flat."
"You're a wonderful mother."
"I am your mother. I am doing this for you."
The day after the rent was due the landlord phoned. David didn't have the money.
Belinda is cooking spaghetti. The water is boiling. She pulls the spaghetti from the packet and breaks it to fit in the pan. David comes through.
"What are you doing?"
"I thought we'd have spaghetti."
"You don't cook it like that. It's all broken. You put it in the water slowly so it softens, then you curve it round in the pan. Honestly, what a pleb."
"I'm not a pleb."
And tearful Belinda rushes from the kitchen and shuts herself in the bathroom.
They begin to have lots of silly arguments like this.
A few days later, when they are having dinner—lovingly prepared vegetable risotto from a packet—he says, "I'm giving up the flat. I'm going back home."
"Oh. Why?"
"My mother said she won't pay the rent."
"What will I do?"
"You'll have to find somewhere else. I'm sorry. I can't pay the rent on my own."
"I could get a job."
"Doing what?"
"I don't know."
"This is an expensive flat."
He gets up from the table and goes through to the bedroom. She looks at her plate of rice and vegetables. He comes back, "I'll help you pack your things if you like."
She packs her things. She doesn't want his help. She phones her mum. Her dad answers. She puts down the phone and leaves the flat.
The stage is set. Hammersmith Bridge. Eight o'clock in the evening. Not the prettiest bridge over the Thames, but the Thames is a murky river and doesn't deserve a pretty bridge. The sun is setting. Belinda, who has been walking around Lambeth and Vauxhall for three hours, strolls across the bridge, looking down at the paving stones but not seeing anything. She stops halfway across, holds on to the railing, and looks along the river to the red glow from a disappearing sun reflecting off the petrol-surfaced water.
We are coming to the end of our story, but if you don't like this ending, which is sad, there is a second ending, which is happier.
She climbs up on the rail and looks at the river below. She thinks of the old man in the car. What would have happened if she'd gone for a meal with him? Would she now be living in a luxury flat with him coming round for a fuck once a week? Would that be worse than her present situation? The Thames is a disgustingly filthy river. Many years ago millions were spent, making the river clean enough for fish to live in. Then along came Thatcher and she sold the water companies to the French and the new owners closed the sewerage plants and sold off the land and poured sewage straight into the river.
So Belinda, standing on the top of the railing, looking down at the city lights reflecting off the petrol-coated water, glimmering with pretty colours, sees a kaleidoscope of a river and thinks, How pretty. She jumps.
People outside the Festival Hall perusing the program for that evening—Beethoven with Simon Rattle and The Royal Philharmonic: £90—don't notice the girl as she plummets with her dress flowing up and showing her legs. But others, looking over the river, watching lights twinkle like jewels on the dark polluted river, see her when she slips out of the universe of air and light and breeze and enters another of oil and water and sewage. Her feet touch the water, and as if in slow motion, she slips into the river almost silently and people point and say, "Did you see that?"
"What?"
"A girl jumped in the river."
Onlookers exclaim, "Ooh!"
But they don't know what to do.
Underwater she panics. The lights on the banks flicker above her. She struggles to get to the surface. She doesn't want to go like this, swallowing filthy water. Her soaked clothes hold her down. The crowds watch the surface of the water. Nothing happens. Some phone 999. Passing tourists join the riverside crowd, wondering what is going on.
"What's happening?"
"A girl jumped in the river."
"Oh my God. Is no one doing anything?"
She floats to the surface, white in the moonlight, and lies there, turning slowly in the slowly swirling current.
A police boat chugs along, and they fish her out of the river with a pole with a hook at the end. The crowd disperses: off to dinner or dancing at a club, or to see a late-night show, or home to bed because there's work in the morning. The girl is quickly forgotten.
In the second, happier ending, Belinda climbs the railing, much as she did before, but just as she gets to the top she hears a car horn and David's voice, "Belinda!"
She turns to see him getting out of his car (isn't he sweet). He hurries to the railing and looks up at her, but he doesn't touch her. He says, "Belinda, please come down."
"I don't want to live without you," she replies.
Doesn't young love just pluck your heartstrings? If I had heartstrings I'm sure they'd be plucked by now.
"I don't want you to leave," he says, looking up her dress, remembering her yummy bum and amorous cunt.
As she climbs down, the only thing missing from the scene is a heavenly choir and syrupy violins. Where are you, Mantovani?
He wraps his arms around her. She shivers in his arms. Cars hoot and honk, and angry men and women shout. "You're not allowed to stop on the bridge!"
"Please don't leave me," she says with her shrew-like pointed nose reddened from the cold evening air.
They get into the car.
"I'm sorry."
"So am I."
And they drive off.
I could tell you how they drive into Hammersmith, turn a corner, and stop outside a house where there's a party and they get out and walk up the steps and he puts his hand up her skirt and she giggles and says, "Stop it." But I'm not sure if that's true or not. It's possible they drive into Chelsea and just as they enter Sloane Square, a terrorist bomb explodes, blowing the car up in the air, and he loses both his legs and she loses both her arms, so together they just about make one person. Or maybe they cross the river and turn into Embankment and drive along into East London and up Mile End Road all the way out of London through Epping and on through Essex on the M25 and it's night and there's a full moon and they drive through Essex into Suffolk with all the fields and cows and smelly pig farms, and they run out of petrol and they look around—it's a star-filled night—and he kisses her, and they climb in the back of the car or lay down on some hay in a field and make love and she orgasms as she watches the stars moving. Or, as they leave London, they see an accident, and Belinda rescues a woman from a car that seconds after explodes in flames and Belinda is hailed as a hero and the woman she rescued is a friend of David's mother—just to push a coincidence—and everyone gets to respect each other as they should have done to start with.
But whatever they do, they at least have some happiness together, and even if I can't guarantee a happy-ever-after life, they at least have some fun for a few months or years, and when all is said and done, a happy life with the one you love has got to be better than drowning in a river.
Samantha Memi
Samantha Memi is the author of the chapbook Kate Moss & Other Heroines, and the story collection All in letters bound in string. Her stories have been published in Birkensnake, The Cortland Review, and Fiction International. She lives in London. http://samanthamemi.net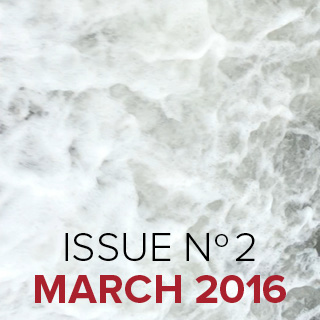 READ THE REST OF ISSUE NO. 2.
CONTENTS
Sponsor's Note: Passion
The Bridge
The Saguaro Apocalypse
The Final Blow
True Things I Shouldn't Have Said Anyway
Application for Funding